Priority 4
End Real Estate Speculation by Supporting Community Ownership
READ THE REPORT
While the need for affordable housing dramatically outpaces demand, real estate speculation exacerbates the problem and threatens our communities with displacement. In Manhattan, the Bronx, Brooklyn, and Queens, 40% of total home sales, and 52% of lower-priced home sales, are all-cash purchases, the majority made by LLCs and wealthy people with no intention of making the buildings they buy their primary residence. Local residents, particularly Black and brown, working-class families, can't compete, and lose the opportunity to build generational wealth. At the same time, speculation in multifamily housing puts tenants at risk of poor conditions, harassment, and displacement, and creates endless barriers to housing preservation.
The Housing Stability and Tenant Protection Act of June 2019 finally removed several of the incentives that fueled intense displacement and high rent hikes in rent stabilized housing. The removal of the vacancy bonus and new limitations on major capital improvements slowed the acceleration of rental increases. This change will make a phenomenal difference going forward, but it will take years for incomes to catch up to the current, legal, unaffordable rents already allowed. Not-for-profit developers, who take their tenants' incomes into consideration when implementing rent increases, are different from the private ownership community, which mos often maximizes rents regardless of an individual resident's ability to pay. This behavior results in an increasing number of rent-burdened New Yorkers, thousands of New Yorkers at risk of eviction, and more who, after being evicted, have doubled up with family and friends or entered the shelter system.
Yet the administration has favored for-profit developers over mission-driven non-profits for both new affordable housing and preservation deals, taking profits generated from these trans- actions out of communities and putting them into developers' pockets. Between 2014 and 2018, for-profits were responsible for 79% of new HPD- financed units created and 67% of HPD-financed units preserved. In that same time, the administration awarded 75% of Requests for Proposals (RFPs) to develop public land to for-profit developers.25 In most of these transactions, public land is transferred to private developers for $1.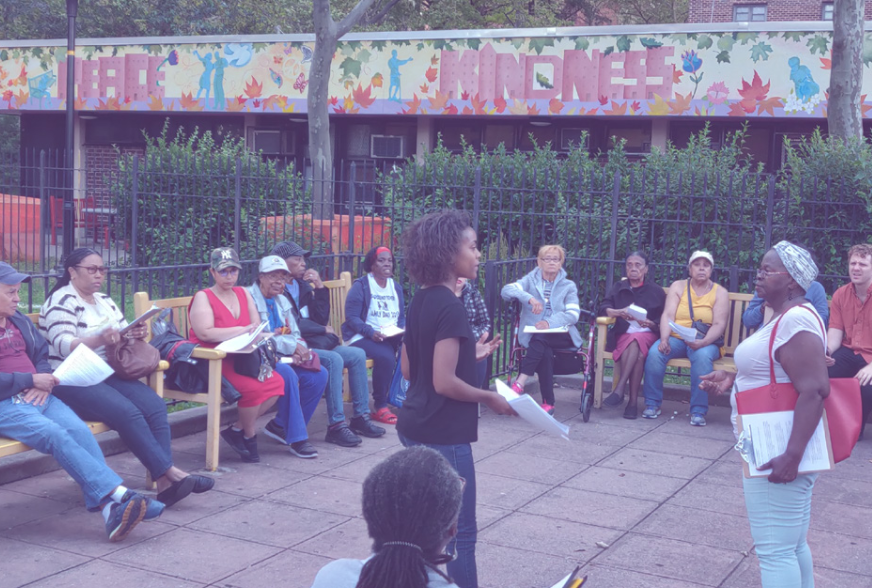 While one might think that this practice keeps the cost of affordable housing development down and allows for deeper affordability, this practice is taking public resources away from communities and putting them into the hands of the private market, with no guarantee that affordability will be based on local need or that the agreed-upon affordability levels will be maintained after the initial regulatory agreement (often 60 years for public sites) expires.
Non-profit developers, conversely, most often keep revenue in the community, often in the form of direct service delivery, and are more likely to build more deeply affordable housing and keep it in their portfolios for longer, if not in perpetuity.26 They also tend to take on complicated preservation deals involving extremely-low-income hous- ing, smaller buildings, scattered sites, and more distressed properties.
It is important to bring clarity and transparency to the difference between for-profit owners /developers and not-for-profit owners/developers, and how the City's preference for for-profit developers in recent decades has changed the landscape of affordable housing development in New York City. As the City moved away from its traditional model of small new construction and preservation initiatives and started financing larger buildings, it increasingly selected for-profit developers for these large projects, keeping non-profit developers relegated to the smaller, more complex deals. Because these large projects come with more lucrative developer fees, the gap in the amount of money available to for-profits vs. non-profits has grown significantly over time, making it even more difficult for the non-profits to compete. Our next administration must instead see non-profit developers as partners in creating equitable neighborhoods and provide them with the support they need to serve the communities where they work.
The Integrated Housing Plan must stabilize neighborhoods by creating and preserving 100% permanently affordable housing that is community built and community owned, and working to keep existing residents in their homes.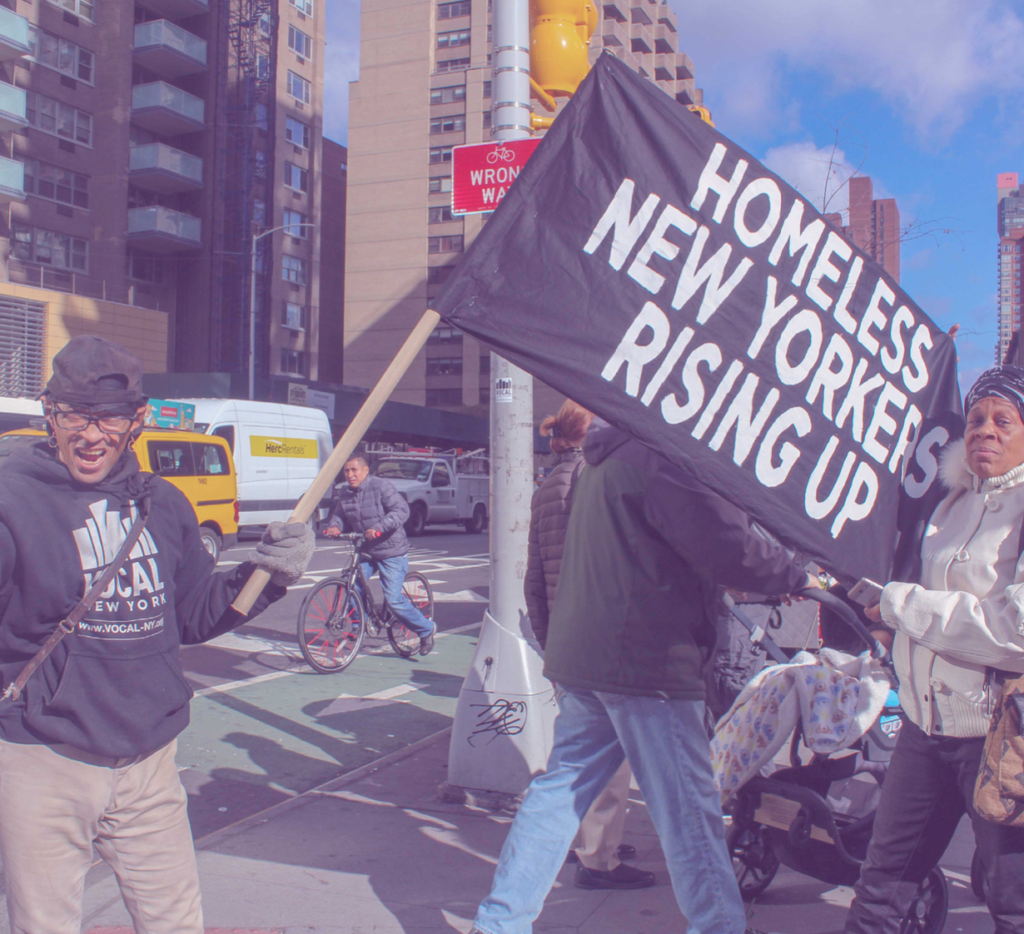 Strategies
Priority 4: End Real Estate Speculation by Supporting Community Ownership
Utilize public land for public good. The next administration must require publicly owned sites to be developed as 100% permanently affordable housing that reaches those with the most need, by mission-driven, not-for-profit and/or community controlled developers, with space for community facilities.
Develop more public sites as affordable housing. The City should undertake an interagency effort to identify underutilized and underbuilt public sites, such as parking lots, for transfer to HPD for development as affordable housing. To reduce racial disparities, there should be a focus on affluent, predominantly white communities where decades of policy have created high land costs that make affordable housing development more challenging.
Ensure public sites maintain affordability and community ownership in perpetuity. Encourage the use of Community Land Trust (CLT) ownership structures, and/or ensure that in any development partnership, non-profit developers maintain majority ownership with long-term asset retention.
Increase outreach from HPD to mission-driven property owners, such as faith-based institutions and non-profits, which may want to develop underutilized property as affordable housing.
Build capacity of non-profit developers. The City must recognize interest paid on acquisition and predevelopment loans for non-profit developers and create a bridge financing product for when closings are delayed due to pipeline or capital restraints.
Give preference in RFPs to non-profit developers with large portfolios of low-income units. This will encourage these developers to take on more complicated preservation projects without risking their ability to be competitive in new construction.
Assist struggling homeowners and small landlords.

Fund foreclosure prevention services, including legal services and counseling, and expansion of the Homeowner Help Desk.
Fund programs that help homeowners and small landlords make necessary repairs such as HomeFix and Landlord Ambassadors, to keep existing homeowners and their tenants in their homes.

Prevent speculation on Low Income Housing Tax Credit (LIHTC) properties. Ensure that all City-funded LIHTC projects transfer to non-profit control at year 15 for debt only. Require that limited partners exit at year 15, giving non-profit partners the right of longterm ownership.
Create and fund mechanisms to turn existing unregulated units into affordable housing.

Support the Community Opportunity to Purchase Act (COPA), which creates
a right-of-first-refusal for a list of pre-qualified developers, including primarily non-profits and MWBEs, as well as those using a CLT ownership structure, when landlords decide to sell their buildings. This can be done immediately by passing Intro 1977-2020.
Use tax liens as a preservation opportunity. In the existing tax lien sale, the
City sells outstanding tax debt to private, third-party investors. These investors often add to the debt, leading many to sell their home or initiate foreclosure. The Coalition for Affordable Homes found that this encourages property flipping and often causes displacement of both the homeowner and any non-rent-regulated tenants.27 Tenants in distressed multi-family buildings that cycle through the tax lien sale multiple times see marked decline in the physical conditions of their homes.28 Additionally, this disproportionately impacts communities of color – in 2019, the City was nine times more likely to sell a lien in a majority Black neighborhood than a white neighborhood.29 The City must end the practice of selling tax liens to private speculators and instead create a new system focused on preservation. 30 This could take the form of a municipal debt purchaser, or another City-funded program that would:

expand outreach and education efforts to ensure that no owner loses their property if they are demonstrably working on a positive outcome for the building, the residents, and themselves;
if feasible, work with the existing homeowner to stabilize the building operationally, financially, and physically, when possible, and enter into a regulatory agreement;
create and fund an acquisition program to ensure that these properties remain in community ownership by acquiring them in rem and transferring them without debt to a building's residents, a local non-profit developer, a CLT, or a land bank, which will improve conditions for existing residents and maintain affordability in perpetuity; or
pursue foreclosure and transfer of the property to a preservation-minded owner such as the building's residents, a local non-profit developer, a CLT, or a land bank.

Create more affordable home ownership opportunities. The City's homeownership initiatives must provide opportunities to enter the homeownership market for low- and moderate-income people and provide a balance between affordability and individual wealth building. These initiatives should avoid contributing to gentrification in low-income communities by reducing purchase prices to levels affordable to community residents currently residing where homes are being built. Regulatory agreements, shared equity resale frameworks, tax abatements, and down-payment assistance must be available to ensure affordability applies to initial purchasers as well as future buyers.